Touyee Thao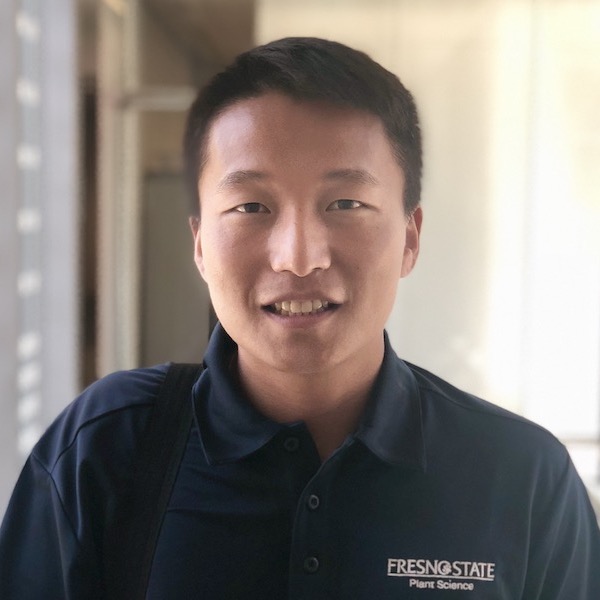 Experience
Lawrence Berkeley National Lab


Affiliate Researcher
2017 - 2018

---

Center for Irrigation Technology, Fresno State


Research Technician
2017 - 2018

---

Center for Irrigation Technology, Fresno State


Research Technician
2017 - 2018
Graduate Research Assistant
2014 - 2017
Undergraduate Research Assistant
2011 - 2014

---
Education
University of California, Merced
PhD Student, Environmental Systems
2018 - present

---

Fresno State University
MS, Plant Science/Soil-Water Management (_with Distinction_)
2017

---

Fresno State University
BS, Plant Science/Crop Production Management (_Magna Cum Laude_),
2014

---
Awards and Honors
Academic Honors
2017 University Graduate Medalist,
Fresno State University
2017 Outstanding Thesis Award
Jordan College of Agricultural Science and Technology, Fresno State University
2017 Certificate of Academic Achievement
Education Opportunity Program, Fresno State University
2017 All-University Graduate Student Leadership Award
Fresno State University
2017 Dean Medalist
Jordan College School of Agricultural Science and Technology
2016 Research and Creative Activities Support Award
Fresno State Univetrsity
2014 Dean's Medalist Nominee
Department of Plant Science, Fresno State University
2014 Undergraduate Student Achievement Award
Department of Plant Science, Fresno State University
2014 Standard Bearer
Jordan College of Agricultural Sciences and Technology, Fresno State University
Professional Society Awards
2017 2nd Place Graduate Student Poster Competition
CA Chapter of American Society of Agronomy
2016 Gerald O. Mott Meritorious Graduate Student Award
American Society of Agronomy-Crop Science Society of America, Soil Science Society of America (ASA-CSSA-SSSA)
2016 1st Place Graduate Student Poster Competition,
CA Chapter of American Society of Agronomy
2015 National Award Winner
Evapotranspiration Measurement and Modeling Community, American Society of Agronomy, 2015

2014 National Student Recognition Award
ASA-CSSA-SSSA,

Irrigation E3 Learner, Irrigation Association, 2014
Assemblyman Jim Patterson's Agriculture Science Students of the Year Award, 2014
Certificate of Recognition, Fresno County Farm Bureau, 2014
Certificate of Appreciation, United States Department of Agriculture, 2014
Golden Opportunity Scholar, ASA-CSSA-SSSA, 2013
EOP Summer Bridge - Counselor & Peer Mentor, Guardian of the Legacy Award, 2009
EOP Summer Bridge - Peer Mentor, Hard Working Award, 2009
Scholarships and Grants
Ag One-25th Anniversary Ed Rose Scholarship, 2016
Ag One-Fraysher Scholarship, 2016
Ag One-Lowell A Jordan & Jorda Scholarship, 2016
Ag One-Jack Woolf Scholarship, 2015 & 2016
Student Scholarship, California Irrigation Institute, 2016
Graduate Net Initiative Research Fellowship, CSU Fresno, 2015
Jensen Scholarship, 2013 & 2015
Valley Grower Local Sunweet Grant, 2013
Ag One-Dr Marinus Van Elswyk Grant, 2013
Ag One-Dick Markarian Grant, 2012
CA Cotton Alliance Scholarship, 2012
Ronald McNair Research Grant, 2012
Undergraduate Research Grant, 2011
General Dillingham Scholarship, 2011
CAST Scholarship, 2011
Publications
Peer-reviewed Articles
Wang, T., Melton, F. S., Pôças, I., Johnson, L. F., Thao, T., Post, K., & Cassel-Sharma, F. (2021). Evaluation of crop coefficient and evapotranspiration data for sugar beets from landsat surface reflectances using micrometeorological measurements and weighing lysimetry. Agricultural Water Management, 244, 106533.
Thao, T., F. Cassel S., D. Goorahoo, and J. Ayars (In prep). Crop Water Requirement of Irrigated Sugarbeet Grown in the Central Valley. Paper to be submitted to the Journal of Agricultural Water Management.
Theses
MS Thesis: Developing Crop Coefficient (Kc) for Sugar Beet (Beta Vulgaris) under Drip Irrigation System Using Weighing Lysimeter.
Proceedings and Abstracts
Goorahoo, D., J. Samano-Monroy, F. Cassel S., T. Thao, G. Seepersad. 2017. Nitrate leaching index for surface drip- irrigated cauliflower fertilized with organic soybean meal. HortScience 52(9): S414-415. Supplement—2017 ASHS Annual Conference.
Cassel S., F., T. Thao, and D. Goorahoo. 2017. Influence of growing degree days on the crop water use of processing tomato. HortScience 52(9): S447. Supplement—2017 ASHS Annual Conference
Thao, T., F. Cassel S., A. Mele, D. Goorahoo, and J. Ayars. (2017). Influence of Growing Degree Days on Sugarbeet (Beta vulgaris) Evapotranspiration and Crop Coefficient. Poster presentation at the California Chapter of the American Society of Agronomy, Fresno, CA. 2nd Place Graduate Student Poster Winner
Goorahoo, D., A.Unc, C. McCall, J. Samano-Monroy, F.Cassel S, T. Thao, and G. Seepersad. (2016) AirJection Irrigation Mitigates Denitrification and Leaching. Oral presentation at the Irrigation Show & Education Conference, Las Vegas, NV.
Touyee Thao, Florence Cassel S, Dave Goorahoo, David Zoldoske, and Anthony Mele. Nitrogen and Water Use Efficiencies in Drip-Irrigated Sugarbeet. 2016 ASA-CSSA-SSSA International Conference, Phoenix, AZ.
Eric R. Kent, Richard L. Snyder, Janae Clay, Cayle Little, Touyee Thao, Florence Cassel Sharma, Blake Sanden, Daniele Zaccaria. Measurement-based Actual Evapotranspiration in Pistachio Orchards Under Varying Soil Salinity. Climate Change, Water, and Society IGERT 2016 State of the Science & Policy Workshop, Davis, CA.
Touyee Thao, Florence Cassel S, Dave Goorahoo, Jim Ayars, and Shawn Ashkan. Evaluating Crop Water Requirements for Sugarbeet (Beta vulgaris) under Drip Irrigation. 2016 California Plant and Soil Conference, Visalia, CA. 1st Place Graduate Student Poster Winner
Florence Cassel S., Touyee Thao, Dave Goorahoo, Josue Samano and David Zoldoske. An Integrated Approach to Energy Beet Production in California. 2015 ASA-CSSA-SSSA International Conference, Minneapolis, MN.
Touyee Thao, Florence Cassel S. Dave Goorahoo, and Shawn Ashkan. Lysimetric Measurements of Evapotranspiration for Drip-Irrigated Crops. 2015 ASA-CSSA-SSSA International Conference, Minneapolis, MN. National award winner for student oral presentation
Josue Samano, Dave Goorahoo, Florence Cassel S., and Touyee Thao. "Nitrogen Leaching Potential for Cauliflower (Brassica oleraceae var. botrytis) Grown with UAN32 and an Organic Fertilizer." 2015 ASA-CSSA-SSSA International Conference, Minneapolis, MN.
Dave Goorahoo, Florence Cassel S., Touyee Thao, Forrest Melton & Lee Johnson. An Integrated Lysimeter and Satellite Imagery Approach for Estimating Crop Evapotranspiration. 2014 AGU Fall Meeting, San Francisco, CA.
Cassel S. Florence, Thao Touyee, and Goorahoo Dave. Updated Evapotranspiration Estimates and Crop Coefficients to improve Irrigation Scheduling in Sub-Surface Drip Irrigated Vegetable Systems. 2014 Irrigation Association Conference, Phoenix, AZ.
Touyee Thao, Florence Cassel Sharma, Dave Goorahoo, and Charles Cochran. New Evapotranspiration Estimates and Crop Coefficients for Optimizing Sub-Surface Drip Irrigation Scheduling. 2014 ASA-CSSA-SSSA Conference, Long Beach, CA. 2014 CSU, Agricultural Research Institute, Pomona, CA.
Dehghanmanshadi, B., F. Cassel Sharma, and D. Goorahoo, and T. Thao. 2013. Optimizing Water Use Efficiency of Tomato Under Subsurface Irrigation with ET model. Soil and Water Conservation Society, Reno, NV. CSU-Water Resources and Policy Initiative, Long Beach, CA and San Francisco, CA. 2014 Water Technology Conference, Clovis, CA.
Meiyue Wang, Touyee Thao, Dave Goorahoo, and Dennis Bacon. 2012. Effect of Organic and UAN-32 Fertilization on Bok Choy and Soil Properties. California Chapter-American Society of Agronomy – Plant and Soil Conference, Visalia, CA.
Touyee Thao and Dave Goorahoo. 2012. Effect of Organic and UAN-32 Fertilization on Bok Choy Yield and Soil Properties. 33rd Annual Central California Research Symposium, Fresno CA and 4th Annual Water Resources and Policy Initiatives, Sacramento, CA